The Chainsmokers have launched a new tour! Look for links in your area. DO NOT MISS THIS TOUR!!!! I love their energy. Positive people!
Join the Global Family... Join the People Of Tomorrow.
TomorrowWorld USA (September 25-26-27, 2015)
Tomorrowland Brasil (April 21-22-23, 2016)
Tomorrowland Belgium
www.tomorrowland.com
THE FRIENDZONE TOUR COMES TO CT!!!!!!!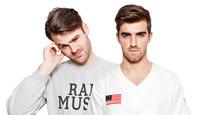 Wed, Nov 4, 2015 07:00 PM
Details:
The Chainsmokers, Loudpvck, Matoma